Serving CSEZ, Communities and the Nation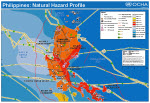 It underscores the important role that Geographic Information System (GIS) plays in the development of Clark Special Economic Zone (CSEZ) parallel with the surrounding local and the national level as well. A host of diverse but interconnected issues such as urban, economic, social, agricultural, environmental, and business concerns must be considered in making developmental decisions even for small units of the government like the communities.
Increasingly, graphical and spatial databases are becoming an important component of a country's information infrastructure, for they assist in understanding the complex systems that interplay in advancing local and national development both in the community and business sector.
 

ON-LINE Interactive Maps and Information
The GIS Division is continuously developing its website for its Corporate Intranet use, and soon for worldwide internet access. This web site contains Geospatial information of the Clark Development Corporation. This will help other department of the corporation in making development plans and strategic marketing.
Provides access to a variety of on-line maps and information about detailed information on any particular area. They are an excellent planning tool and guide that can be identified by numerous cultural and natural ground features, which can be grouped into the following categories:
CULTURE: roads, buildings, urban development, boundaries, railways, power transmission lines;
WATER: lakes, rivers, streams, creeks;
RELIEF: mountains, valleys, slopes, depressions;
FOREST: wooded and cleared areas;
TOPONYMY: place names, water feature names, road names.
3D Analyst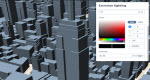 Another future plan of the GIS Division is giving the end-user a 3D View of the Clark Freeport and Economic Zones.
This allows the end-user to effectively visualize and analyze surface data, view a surface from multiple view points, query a surface, determine what is visible from a chosen location on a surface, create a realistic perspective image that drapes raster and vector data over a surface, and record or perform three-dimensional navigation.
With ArcGIS 3D Analyst you can do the following:
Create three-dimensional views directly using your GIS data.
Analyze three-dimensional data using cut/fill, line-of-sight, and terrain modeling.
View your data from a global to local perspective.
Navigate through multi resolution terrain data seamlessly.
Do spatial analysis in two or three dimensions.
Visualize modeling or analysis results in three-dimensions.
Use three-dimensional models and symbols for realism.
Export your visualizations into videos.
Connectivity & Innovation
ArcGIS is always ready to connect to the real world thru its database format "geodatabase". A geodatabase stores GIS data in a central location for easy access and management. It can be leveraged in desktop, server, or mobile environments. It sits on top of an RDBMS, such as SQL Server, Oracle, or PostgreSQL, and supports all types of GIS data. ArcGIS data can also be stored over the cloud for easy access when located remotely.
We are connecting to google map and google earth to view Clark maps and database. As well as gather data from google map, google earth, and a data collector on site and access it both locally on our workstations thru ArcGIS or from the cloud.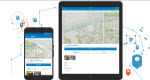 ArcGIS is ready to accept data gathered from newly developed apps for GeoTagging, Inventory, and On-Site Auditing.
Therefore, with these connections and innovations, we are making our GIS more reliable and in-step with the technology advancement.